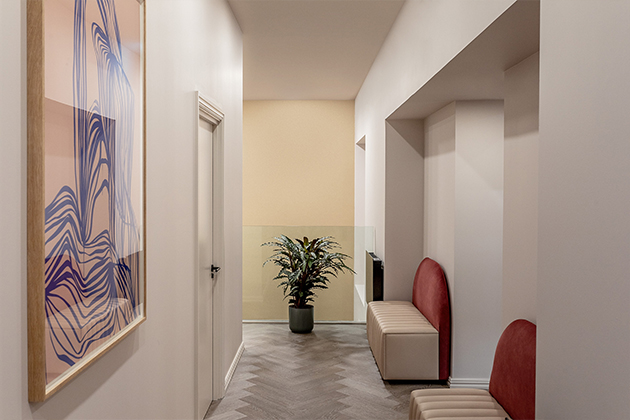 The Clinic Holland Park supports a holistic approach to your health and wellbeing. In The Renew, you will find a collection of elite services that aim to make you the best version of yourself, both inside and out.
The Renew is a private area located on the ground floor of The Clinic, not visible from the Clinic front. The Renew has four consultation and treatment rooms, a communal waiting room, and private washroom facilities.
The Renew is also the destination for non-surgical, natural aesthetics; and we provide the best in beauty treatments by leading practitioners in the industry. Here you can find the unique abilities of celebrity skincare guru Emma Brown, renowned for her special occasion, red carpet facials. The Renew is delighted to present the highly sought-after lash stylist Jin Kim: 'West London's best kept secret at The Clinic Holland Park'.
Sofia Baig is a renowned Scalp Micropigmentation and Hair Loss Specialist offering a discreet, confidential service in hair restoration as well as unparalleled, natural-looking results. For any unwanted hair on your face or body, Dr Jennifer Doyle offers Laser Hair Removal technology delivering a combination of benefits not available in other hair-removal devices.
Located in West London on Holland Park Avenue, our Luxury Super-Clinic provides VIP Beauty Treatments that currently serve the following areas, but are not limited to:
Acton, Beaconsfield, Bedfordshire, Berkshire, Buckinghamshire, Cambridgeshire, Central London, Chelsea, Chiswick, Dorset, Essex, Gerrards Cross, Greater London, Hammersmith, Hampshire, Hampstead, Hertfordshire, Holland Park, Kensington, Kent, London, Marlow, Marylebone, Mayfair, Middlesex, Notting Hill, Oxfordshire, Richmond, Shepherds Bush, Surrey, Sussex, West London, and White City.