Private Cosmetic Clinic
White City
a super clinic
with a difference…
The Clinic Holland Park is the elite Beauty, Surgery and Wellness destination that redefines the Aesthetic experience near White City.
Bringing the excellence of Harley Street to the West London elite, The Clinic Holland Park is a luxury 'super-clinic' near White City – where VIPs can indulge in aesthetic procedures at one-stop destinations that are stylish, ambient, and private.
The Clinic Holland Park is a super-clinic with a difference: not only do we offer the most innovative and advanced non-surgical aesthetics near White City – The Clinic Holland Park does high-end cosmetic surgery too, as well as eyecare, dermatology, private healthcare, cutting-edge hormone treatments, self-care treatments and multiple wellbeing therapies.
We have four private consultation rooms; and two purpose-built, state-of-the-art theatres on site, where The Clinic's founder – Oculoplastic Surgeon Richard Scawn – performs his signature 'immaculate' blepharoplasties (Tatler Beauty & Cosmetic Guide 2020).
The Clinic near White City is dedicated to your inner and outer wellbeing with an unparalleled level of care. Our multi-disciplinary consultancy team of top-tier experts, cross-refer and collaborate, tapping into their unique skills and expertise holistically so that each client is privileged with a bespoke pre- and post-treatment plan – often combining a variety of procedures to ensure the ultimate restorative experience and outstanding results.
Your first step towards transformation starts here…
Aesthetic Clinic White City
A comprehensive collection of services near White City that include Ophthalmology, Hair Treatments, Medical Wellness, Non-Surgical Aesthetics, Surgery, and Traditional Spa Treatments.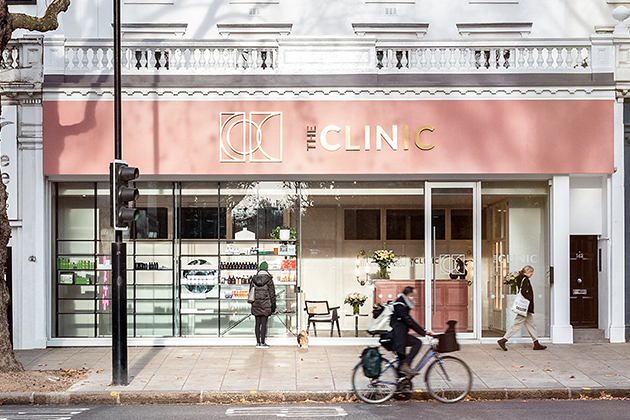 Luxury Super Clinic
near White City
All in one lavish (yet discreet) West London location on Holland Park Avenue – a short walk from Westfield London, or just a hop and a skip from Notting Hill.
The Clinic Holland Park,
142-144 Holland Park Ave, London, W11 4UE
The Clinic offers a curated one-stop destination for all aesthetic, wellness, and surgical procedures near White City. Our stylish, ambient, and private setting ensures you comfortably indulge in a full suite of services, designed for the discerning taste of our clientele.
Book your appointment at The Clinic today – Your ultimate aesthetic, wellness, and surgical destination near White City.
Redefine your natural beauty.
We have partnered with Palazzo Fuiggi to provide a health and wellness home for clients in London.
If you book your stay at Palazzo Fuiggi via The Clinic at Holland Park, we would be delighted to offer you a complementary month of private GP membership to maintain your health and wellness when you return to London and Home Counties.
The Curated -
by The Clinic Holland Park
A hand-picked selection of best-in-class beauty brands near White City, as advised by beauty veteran Tracey Woodward.