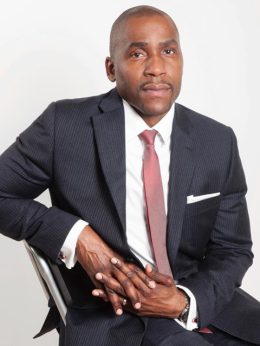 MBChB, MD, FRCOphth, CertLRS
Consultant Ophthalmic Surgeon
Mr Mfazo Hove is a world-class ophthalmologist who specialises in cataract surgery, lens replacement surgery, and laser eye surgery. He is on the General Medical Council (GMC) specialist register for ophthalmology, a Fellow of the Royal College of Ophthalmologists, and a member of the UK Society of Cataract and Refractive Surgeons, the European Society of Cataract and Refractive Surgeons, and the American Society of Cataract and Refractive Surgeons.
Mr Hove graduated with a first-class degree in medicine and surgery from the University of Liverpool in 2002. He began his ophthalmology career in Eastbourne in 2003 as a senior house officer (SHO), followed by a two-year SHO rotation at Guy's and St Thomas' NHS Foundation Trust, and then two-and-a-half years at Moorfields Eye Hospital as a research fellow in medical retina, cataracts and eye casualty. He passed the Royal College of Ophthalmologists examination in laser and refractive surgery in 2017 (CertLRS); and that same year took up an NHS post as a Consultant Ophthalmologist at the Western Eye Hospital, Imperial College London, where he was the lead for eye casualty. At Imperial, Mr Hove founded a new cataract surgical unit – the Riverside Ophthalmological Unit at Charing Cross – that proved to be the most efficient in the UK. Where the Western Eye Hospital were performing approximately 10-12 cataract operations a day, Riverside performed 26 cataract operations a day; more than doubling productivity for Imperial.
Mr Hove remained at Imperial College for 5 years until August 2022, when he took the bold step of resigning from the NHS in order to concentrate on his private practice. In December 2022, we were delighted that Mr Hove joined our team of experts at The Clinic Holland Park, offering a comprehensive ophthalmological service not only for his existing private patients, but for new clients too.
Mr Hove has extensive experience of all refractive surgery procedures, including LASIK, PRK, LASEK, Implantable collamer lens (ICL), natural lens replacement (refractive lens exchange), and intra-ocular lens exchanges. He has performed over 16,000 intra-ocular and refractive procedures; and his expertise in medical retinal and cataract surgeries, as well as ophthalmic emergencies, is unsurpassed. Moreover, Mr Hove's success rate as a cataract surgeon is first-class: where the national average for posterior-capsule rupture rate in cataract surgery is 1.1%, Mr Hove's is as low as 0.4%.
Mr Hove provides one-to-one contact for patients in his care throughout the whole process, from the initial consultation all the way to surgery and aftercare.
Treatments: Ophthalmology and Oculoplastic Surgery