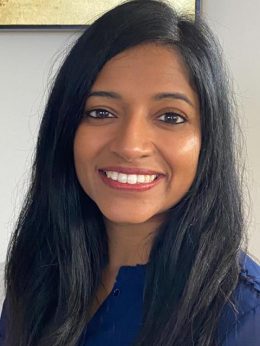 Dr Sanju Arianayagam is a Consultant Dermatologist with Specialist Registration in Dermatology with the General Medical Council, and a Member of the Royal College of Physicians.
Sanju completed her undergraduate training at the University of Oxford in 2012, undertaking her final year elective in the Johns Hopkins Department of Dermatology in Baltimore, US. After completing her core medical training in London, Sanju was appointed to a year-long clinical fellowship in dermatology at Addenbrooke's Hospital in Cambridge, prior to undertaking her dermatology training in the Thames Valley Deanery. From 2018 to 2020, Sanju was the UK representative on the Residents' Board of the European Journal of Dermatology, regularly publishing and reviewing academic articles.
Upon completion of her training in dermatology, Sanju secured her first consultancy position at the Churchill Hospital in Oxford; while also working at Townlands Hospital in Henley-on-Thames. Alongside her practice as a dermatologist, Sanju contributes to and edits medical and dermatological textbooks; and is a tutor for the Postgraduate Diploma of Dermatology at the University of South Wales. Dr Arianayagam's current NHS base is at Oxford University Hospitals NHS Foundation Trust.