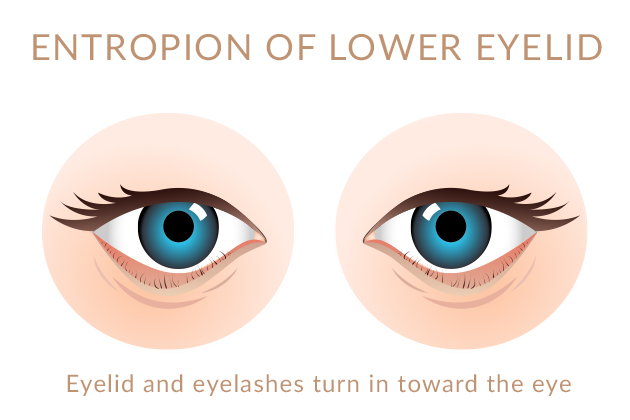 Entropion [en-troh-pee-uhn] can happen in one or both eyes, and is a condition that causes the eyelid (usually the lower eyelid) to turn inwards, towards the eye, so that your eyelashes rub against the eyeball and cause much discomfort. Entropion can sometimes be the result of scar tissue in the area.
Surgery to correct entropion depends on what caused the entropion. Sometimes, a small injection of anti-wrinkle treatment in the affected eyelid can turn the eyelid out (results lasting up to 6 months). If the cause of the entropion is age-related, Mr Scawn will probably perform a blepharoplasty on the affected lid. This will help tighten tendons and muscles that have been affected by entropion; you will have stitches just below the lower lid or on the outside corner of the eye. Mr Scawn uses self-dissolving sutures in this procedure.
After surgery, you will be given an antibiotic ointment to treat the area for the following week; and be advised to apply a cold compress to the area every few hours to help lessen post-operative swelling and bruising. A follow-up appointment to review your results and recovery takes place from 1 to 2 weeks after surgery.
Treatment Prices From

£2900

Initial Consultation

£300
Treatment Prices From

£2900

1-2 Initial Consultations

Included

2 Postoperative Follow Ups

Included
Treatment Prices From

£2250

Initial Consultation

£225
Treatment Prices From

£2250

Initial Consultation

£225
Entropion Surgery West London
All surgical procedures requiring local anaesthetic can be performed on-site at The Clinic Holland Park in our purpose-built, state-of-the-art theatres. After surgery, you can recuperate in one of our discreet post-op recovery pods, before your final dressing checks and a clinic-concierge service to chauffeur you home. Prices include initial consultation and up to 2 follow-up appointments. Any fees for histological analysis will also be included in your price.