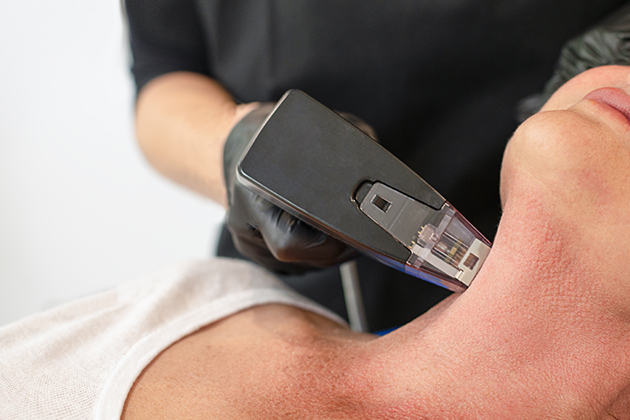 Morpheus8 treatment at The Clinic Holland Park, West London.
Morpheus8 is two treatments in one: a skin-tightening radio frequency (RF) and microneedling treatment to transform your skin; resurfacing, tightening and contouring, providing you with a more youthful appearance.
The treatment carries on working after the procedure, stimulating the production of new collagen, elastin and hyaluronic acid in the skin, which results in firmer, lifted, smooth and hydrated skin. Morpheus8 can be used on the face, neck and body.
Effective anti-ageing treatments - Morpheus8, West London
Morpheus8 combines two of the most effective anti-ageing clinical treatments: RF and microneedling. With Morpheus8, microneedling stimulates a natural healing response of new collagen and elastin fibres to tighten and smooth the skin; while RF heat energy is simultaneously delivered deep into the dermis, to enhance skin-tightening.
Before any treatment with Morpheus8, a local anaesthetic cream is applied to the area to be treated to numb it. Then, during the procedure, sterile micro needles repeatedly puncture the skin, while pulses of RF heat energy are delivered into the skin through the needles. This process prompts tissue remodelling in the treated areas, but without the formation of any scar tissue. The depths of needles are adjustable, depending on the area and what is being treated: 4mm pins are used for under the chin and up to 7mm on the body; smaller needles are used on the cheeks and around the eyes. Different layers of the skin are targeted for different treatments: for resurfacing, Morpheus8 works in the epidermis (outer layer of skin); for skin tightening, the dermis (deeper layer of skin); and for contouring, the subdermal tissue (deepest skin layer). Together, microneedling creates micro-trauma in the skin to stimulate the healing response with the production of collagen and elastin; while RF uses heat energy to shrink-wrap and tighten the skin.
Morpheus8 is a stronger and quicker treatment than undergoing RF and microneedling procedures separately.
Morpheus8 has been shown to improve:
skin texture – fresher, clearer, skin that feels plumper, tighter and more youthful, with tighter pores too
fine lines softened, jawline tightened and wrinkles smoothed
the browbone – particularly effective on hooded eyes
neck rejuvenation: treatment of so-called 'tech-neck' – the appearance of deepening of lines, creases and sagging. Morpheus8 treats the full thickness of the skin and underlying fat of the neck to achieve excellent lifting and firming results. Moreover, because Morpheus8 stimulates natural collagen production, elastin and hydration, without adding any weight or volume to the neck, it works better than botulinum toxin or fillers in this area
scars – including acne scarring, active acne and pitted scars
stretchmarks and cellulite
abdomen, knees and thighs.
In addition, Morpheus8 has been clinically proven to be effective for women and men with skin types ranging from light to very dark (Fitzpatrick types I-VI). Results are long-lasting and continue to improve months after treatment, as new collagen and elastin develop.