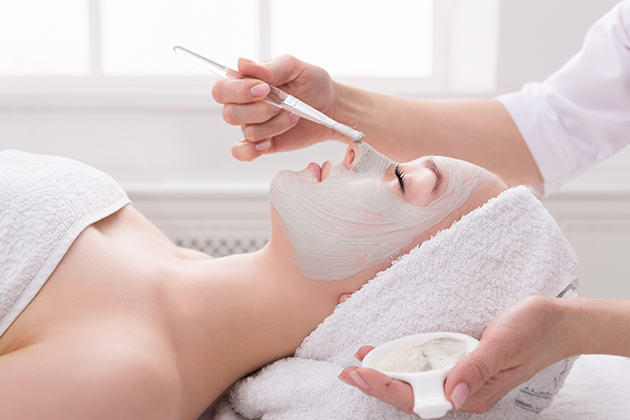 A chemical peel is a deep rejuvenation treatment for your skin. An acidic solution is used to remove the damaged outer layers of the skin, which helps to eliminate blemishes, acne scars, wrinkles, uneven pigmentation and sun damage, while improving overall texture and tightness.
The chemical peel is one of the oldest cosmetic procedures in the world, and was performed in ancient Egypt, Greece, and Rome to help people achieve smoother, more beautiful skin. Today, chemical facial peels are popular because they offer nearly immediate results and can be performed as an outpatient procedure.
Chemical peels can be done on the face, neck, or hands. They can be used to:
Reduce fine lines under the eyes and around the mouth
Treat wrinkles caused by sun damage and ageing
Improve the appearance of mild scars
Treat certain types of acne
Treat pigmentation, reducing age spots, freckles and melasma (dark patches caused by pregnancy or the contraceptive pill).
The acidic solution exfoliates the outer layers of dead skin, to reveal a new skin layer with improved tone, texture and colour.
A chemical peel can provide several benefits to the skin. The procedure can restore a more youthful appearance to the skin, reducing wrinkles, uneven pigmentation, sun-damage, and blotchy patches.
Obagi Blue Peel RADIANCE® is a superficial, salicylic-acid-based peel that can be used on a wide range of skin types to reveal younger-looking skin. You will notice a glowing improvement in your overall complexion after just 1 peel – tighter, smoother, brighter-looking skin. A course of 4-6 peels provides the best results.
Blue Peel RADIANCE® helps improve the following skin concerns:
Fine lines and wrinkles
Rough, uneven skin
Blemishes
Mild to moderate photo-ageing.
Obagi Blue Peel RADIANCE® is a quick and easy in-clinic procedure with little to no downtime.
The Obagi Nu Derm System we offer at The Clinic Holland Park is available by prescription only. It is a 3-month programme of skincare that aims to correct and transform your skin, addressing the signs of photodamage and restoring healthy function to your skin at a cellular level. These are high-strength creams, and contain the active ingredient hydroquinone (a skin-lightening agent). Nu Derm System is ideal for the reduction of: age spots, hyperpigmentation (discolouration), rough skin, sallowness (yellow complexion), and erythema (redness). It is available both for normal/dry or normal/oily skin types. Further, Vitamin A can be added to your Nu Derm System skincare regime, in the form of tretinoin, to accelerate the skin cell cycle and to enhance skin lightening.
Your skin is exposed to a number of environmental stressors on a daily basis, causing ongoing damage that can reach the deepest layers of your skin. Photodamage, caused by the sun's harmful rays, is the main cause of fine lines, wrinkles and age spots – the earliest signs of ageing to appear on your face. Of course, skin ageing is a natural process, but daily sun exposure contributes significantly to premature ageing, causing the skin to appear dull, with older, damaged skin cells accumulating due to a slower cell turnover.
Obagi Blue Peel (per peel)

£950

Obagi Blue Radiance Peel (per peel)

£150

Obagi Nu Derm System (including consultation)

£455

Obagi Nu Derm System Tretinoin (including consultation)

£555