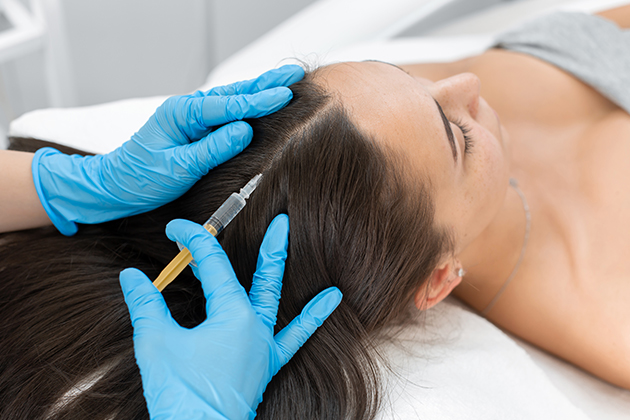 Platelet Rich Plasma (PRP)
Platelet rich plasma (PRP) treatments use the patient's own blood – no other filler or chemicals – just your blood, centrifuged, as a dermal injection to improve the texture of your skin.
A fresh sample of your blood is placed in a machine that will centrifuge your blood to extract the plasma from the red blood cells. The plasma is then reinjected at desired areas of your body to rejuvenate the skin (such as under the eyes, on a receding hairline, or to target nasal-labial folds).
Your plasma is the ingredient in your blood that encourages cellular regeneration, including the production of fresh collagen; so injections of your own blood plasma will have an anti-ageing effect on the skin (or hair follicles) being treated, without any fear of an allergic reaction – the plasma, after all, has been extracted from your own blood and is therefore your very own, entirely natural 'super' ingredient.
Results are impressive, but are not immediate. Expect your skin to show signs of improvement from 2-3 weeks at the earliest; but the full effect will become visible within a month. Popular areas to be treated are the face, neck, chest or scars, as well as receding hairlines or hair partings that are becoming sparse.
PRP therapies have been on the market for a few years now; yet at The Clinic Holland Park, we have invested in PRP technology that is decidedly extra: WorldPRP, by Cell PRP Cellular Regeneration. What singles out WorldPRP technology, above its competitors, is the fact that its yield of plasma is greater (12ml per sample) and of a higher quality, than other centrifuged systems currently on the market.
Moreover, our treatment combines the benefits of PRP injections with microneedling, so that your entire face (or other treatment area) is saturated with your blood plasma and will reap the benefit of natural cellular regeneration.
Microneedling is an aesthetic medical procedure that involves repeatedly puncturing the skin with tiny, sterile needles in order to induce tissue remodelling via the production of your body's own collagen. The 'micro' skin punctures stimulate the skin's natural wound-healing process to prompt tissue remodelling, but without causing the formation of scar tissue. Microneedling has been shown to improve the appearance of skin texture, fine lines, wrinkles, and scars – including acne scarring and stretch marks. Microneedling also temporarily increases the skin's permeability, to allow topical nutrients – such as your blood plasma – into the dermal layer. The combination of PRP therapy with microneedling, therefore, is an extremely effective and natural way to rejuvenate your skin.
At The Clinic Holland Park, our aestheticians use SkinPen for the microneedling in this procedure. SkinPen is the only microneedling device in the world with clearance by the US Food and Drug Administration (FDA); clinically proven to treat facial acne scars safely and effectively.
Per Area (3 Sessions)

£1900

Per Area (1 Session)

£700