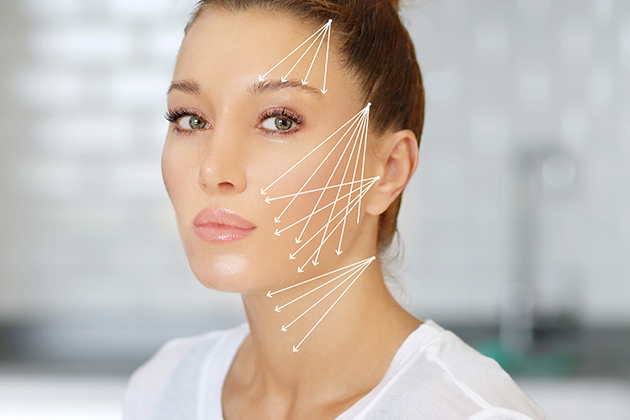 Thread Lift Treatment at The Clinic Holland Park, West London.
There is no disputing that surgical facelifts are the most effective and long-lasting facelifts available on the aesthetics market (lasting up to 10 years). Yet there is also no denying that facelift surgery is highly invasive, and comes with a lengthy downtime – surgery takes months to heal; and compression bandages need to be worn for weeks afterwards to facilitate a desirable outcome. Surgical facelifts are costly too – a significant investment of both your time and money.
A Facelift Alternative - Thread Lift, West London
There are alternatives to the full surgical facelift. One incredibly effective treatment is to have thread lifts – when cosmetic threads as light as feathers are inserted under your skin like a supporting scaffold, and anchored at strategic points in order to 'lift' your face. The effects are immediate, downtime is approximately 48 hours, and the effects get better over the following months. Your facial features will be lifted, fine lines and wrinkles will be reduced, your face will look more smoothed out, naso-labial (nose-to-mouth) lines will be softened, and your whole face will appear slimmer, less baggy, and more sculpted.
Moreover, our thread lifts have added benefits: we use dissolvable, PDO (polydioxanone) threads, which trigger the body's natural healing response and encourage collagen regeneration in the area, long after the threads have been absorbed. PDO threads dissolve within 6 months; but in their tracks, the cellular regeneration in the skin makes the effects of a thread lift last for much longer; renewed production of collagen will go on to add natural volume for up to 2 years after the procedure. A thread lift delivers immediate lifting results, prolonged collagen regeneration, and significantly reduces the effects of ageing on the face and jawline. It will take 12 weeks to see the full results – not just the effects of the facelift, but firmer, tighter, smoother skin too.
Another recommendation for a thread lift is that you can have this mini facelift performed in your lunchbreak – because the procedure only takes about an hour to perform, and downtime is so minimal; you can wear makeup 48 hours after treatment.
Full Non-Surgical Threads Face Lift

£2995